What to do when you cannot train your employees in the traditional way, through classic classroom training? The Coronavirus emergency has led many Training and Development Managers to rethink their training strategy and make up for lost time (and neglecting to digitize corporate training). Because we have to be honest, the main mistake of some HR Directors and L&D Managers, has been ignoring the Elephant in the Room. The Digital Transformation.
We are now at a turning point. And this requires adopting a new mindset, acting quickly and strategically. Execution, Execution, Execution!
Fortunately, innovation in the world of Learning Technologies has not stopped due to the inertia of some, quite the contrary! It has enabled many HR and L&D Managers to digitize corporate training and successfully manage the Digital Transformation in Corporate training.
That's right, fortunately! Because this means having best practices and success stories, know-how and effective solutions – enabling those who have fallen behind to catch up.
This avoids committing the typical mistake of those who have ignored the problem for a long time: having the presumption of knowing how to do it (inventing the wheel every time..sigh!), adopting strategies and solutions that are at least bizarre – if not completely unsuccessful (and believe us, we are hearing some good ones lately…).
So, returning to the initial question: how is it possible to transform classroom training into virtual training with a strategic execution-oriented approach?
The answer is very simple: video conference
Get started with your video conferencing classes now! Digitize classroom training by transforming it into virtual training sessions, webinars and online coaching.
The momentous change we are facing requires Training Managers to act immediately to enable learning continuity, in all kinds of situations and contexts.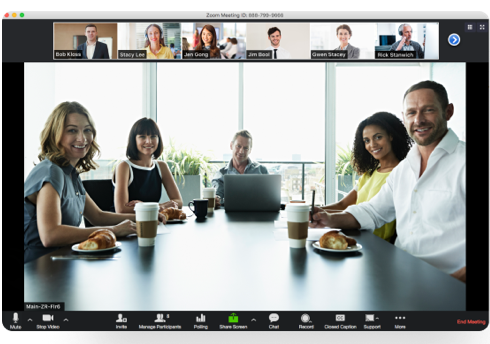 Thanks to modern videoconferencing and virtual training solutions, it's possible to effectively and engagingly train employees, even when they are working remotely, or when people's health and safety needs dictate that a social distance must be maintained.
The first step: turn your classroom training into virtual classroom (meeting e webinar)
You will be surprised at how important this small step will be for the digitization of training in your company. In that it will first and foremost help you change your mindset and open up to the world of digital learning.
Online training sessions, project works, webinars, online coaching. With modern video conferencing software you can digitize classroom training and turn it into an effective and efficient online learning process.
We love and offer Zoom to our customers. Contact us to learn more!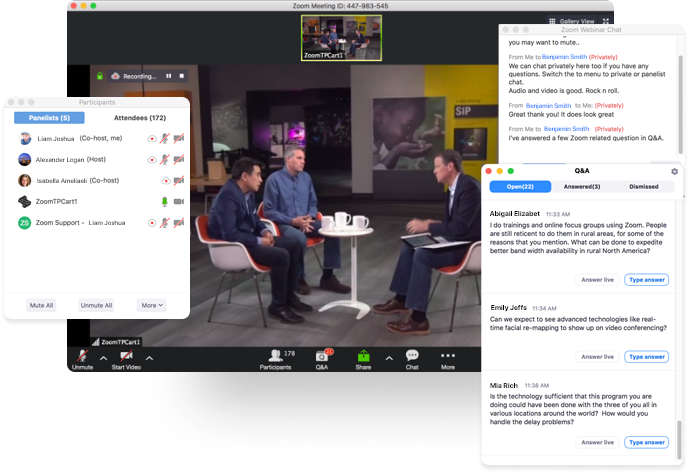 So let's explore 4 best practices that will enable you to ensure an effective and engaging learning experience for your remote workers.
1. Structure your virtual training into multiple sessions to improve the effectiveness and engagement of your employees
Take, for example, a training course aimed at Onboarding new hires.
The agenda of a corporate Onboarding course – performed in-person – usually requires a significant time and cost commitment. Therefore, Training Departments try to compress it into a few intense days to be conducted in the classroom. Yes, but too much effort! ?
Remember: turning a classroom training course into a virtual training allows you to take advantage of the possibility of structuring learning into multiple sessions, so that participants can progressively assimilate and reinforce what they have learned.
Specifically:
Divide the training agenda into multiple parts and multiple days.

A good rule: 50 min lecture and 10 min break. That's right, even in video conferencing there is a need for a good cup of coffee and the occasional leg stretch. ? This way you will help all participants to maintain proper concentration during the training session, without distractions.
During break times, invite your learners to keep the audio on-this way, you can broadcast a soundtrack during breaks and use a jingle to alert them to the imminent resumption of work.
Integrate virtual training sessions with e-learning courses on your corporate LMS. This way you'll be able to streamline your schedule, creating a blended, 100% digital learning path.
2. Enhance your training content and be creative!
Content is the king, even in videoconferencing! To create engaging and effective sessions, you should use all the features that a modern virtual meeting system (such as Zoom) provides:
Turn on the cam! Lead by example and invite all participants to do the same.
Share content through the screen-share function (PowerPoint, videos, photos, web pages).
Interact with the content you screen-share (e.g., highlighting the most important parts, entering notes and live comments).
Share links to web resources or content on your LMS and your corporate Dropbox or Google Drive.
Involve more faculty in the training session. In this way, you will make learning by students more engaging and less tiring for trainers.
Record the sessions so you can reuse videos of the sessions – for example, by uploading them to your LMS – to make them available on-demand. What's more, you can reuse these videos as material for your e-learning courses.
If you use Zoom, you'll also have the Breakout Rooms feature and create sub-meetings to break participants into small groups so that they can carry out insights or work together (in parallel with video conferencing). When finished, group sessions will automatically be brought back to the plenary session.
3. Engage and interact with your Learners
Classroom trainers know very well how important it is to interact with the class, to engage the class and not just make participants passive spectators.
Well, the same is true for your virtual training sessions via videoconferencing!
The difference, compared to the classroom, is that a modern videoconferencing tool (like our beloved Zoom) gives you plenty of tools to interact and engage your remote workers.
So during your videoconferencing training sessions, don't forget to make good use of the following features:
Chat
Raise your hand
Surveys and Q&A
Feedback Y/N to answer questions and check who is paying attention and who is distracted.
A tip: for truly effective engagement of your remote workers, adopt gamification strategies and tools to award badges and scores and create leaderboards and training contests (you can do this, with an LMS equipped with advanced gamification features). Reward your best performers!
4. Cultivate, build and create new relationships. We are human beings, even in video conferencing!
When people meet and get together for classroom training, new contacts are always made and relationships with colleagues are strengthened. And this is definitely helpful for new employees, who in this way can begin to feel part of a team.
The sense of belonging, team building and creating/strengthening relationships among people are also important elements when you decide to deliver your corporate training virtually, with video conferencing.
Always remember the "human factor" even during your virtual trainings.
Break the ice! Before you start, ask your participants to turn on the cam, share their name, role and where they live. But that's not all. Digitize the "ice breaking" moment, adding a tiny bit of creativity and also taking advantage of the tools that modern videoconferencing software must have (such as Zoom).
Tip: you could ask your participants to customize the background using Virtual Background (so you can use a background image, replacing the wall at home…yes, with Zoom you can!).
Invite participants to an informal session. We could call it "Virtual Happy Hour," where you can get to know each other better, strengthen relationships between colleagues who work remotely, build new ones with new hires. Remember: don't forget the music (a nice playlist from Spotify, as a background to your virtual happy hour) and some good drinks (to drink together, always with the cam on).
In summary, in turning your classroom training into virtual videoconferencing training you can do much more than simply turning on the cam.
The important thing is to equip yourself with the right tool for your virtual online meetings and webinars.
Are you ready for your next engaging virtual training event?
Contact us per conoscere la nostra proposta basata su Zoom.
#neverstoplearning ?