The use of videos in corporate training has always been a must-have and an effective way to educate employees, partners, and customers.
Since the early days of cinema (the seventh art), humans have recognized the evocative power and impact that video could have on people's education and training (both individuals and collectives).
So, if you're wondering what types of videos you can use in your company's training courses, you're in the right place! But first things first:
As we mentioned, the potential of video for educational purposes has always been clear to those responsible for corporate learning and development, even in the days of VHS!
A fantastic example can be found in this training video from Blockbuster – which, before the advent of Netflix, was the undisputed leader in home video entertainment:
What can we say… the video was perfect at the time and continues to serve as an enduring source of inspiration today, notably for its astute application of the alphabet of corporate training (commencing with 'S' for Storytelling).
However, back then, this kind of video production was only accessible to a limited number of companies, considering the investment and effort required to create video-based training. In other words…it required a lot of money! 🤣
Video is the King of content and training. Today more than ever!
Today, technological innovation allows us to have incredibly powerful smartphones in the palm of our hands, capable of producing "cinema-quality" videos. Not to mention 4K cameras and all the necessary equipment for creating excellent video recordings at very reasonable costs when compared to past investments.
Furthermore, nearly everyone loves to create and publish stories, reels, and video content on various platforms like YouTube, Vimeo, and social media platforms such as Instagram, TikTok, and Facebook.
What can we say, Video is the King among content and with the advent of Generative AI, it's becoming even more KING!
In summary, creating videos for employee training is now accessible to all companies. However, to maximize their effectiveness in corporate training, it's crucial to understand the various types of videos that can be employed in training programs for employees, clients, partners and dealers.
Continue reading this post to discover the most effective types of videos for training.
Microvideos: Short videos that get straight to the point
Microlearning and videos go hand in hand. These are short-duration videos that address a single topic and get straight to the point. Whether it's a video on how to replace a component of a machine, how to perform a macro in Excel, or a tip for improving the pronunciation of a foreign word, the key is to remove all the unnecessary details and present the topic as simply and clearly as possible.
Your goal in this case is to provide immediate support to your employees' performance with useful content precisely when they need it and as often as they need it. Repetition of the content will reinforce their learning. Yes to microvideos, but with maximum effectiveness!
This type of video is perfect for any type of device, but its natural habitat is undoubtedly mobile devices like smartphones. Think of YouTube reels or TikTok.
In short, microvideos should not be missing from your e-learning courses.
Screen recording: Video tutorials for software training
Some call it screen casting, while others call it screen recording, but regardless of the name, using videos for training on company software is widespread and genuinely effective.
Whether it's software that has been in use for a while or new applications, software training is a fundamental component of employee training, allowing access to video tutorials on how to use company software anytime and anywhere.
Designing e-learning training for new software (e.g., a CRM or ERP) supports the organization in managing change, speeds up employee productivity (as they quickly acquire the necessary knowledge and skills for using the new application).
But what does a screen recording (or screen casting) video entail?
Simply put, a screen recording video is the recording of software screens, usually accompanied by audio explaining how to manage various functions of the application.
In this case, microlearning is also the best choice. Short videos that get straight to the point. This way, users can quickly access training when they need to know "how to do it."
This type of video is perfect for supporting employees' performance with just-in-time training. As always, repetition is the key to consolidation and true learning (thanks to the ability to access the content when needed, from any device).
Today, business applications and software evolve and change rapidly, and video courses are here to support change and digital transformation.
Video tutorials
Another highly effective type of instructional video is the video tutorial, which allows you to explain and demonstrate "how to do it."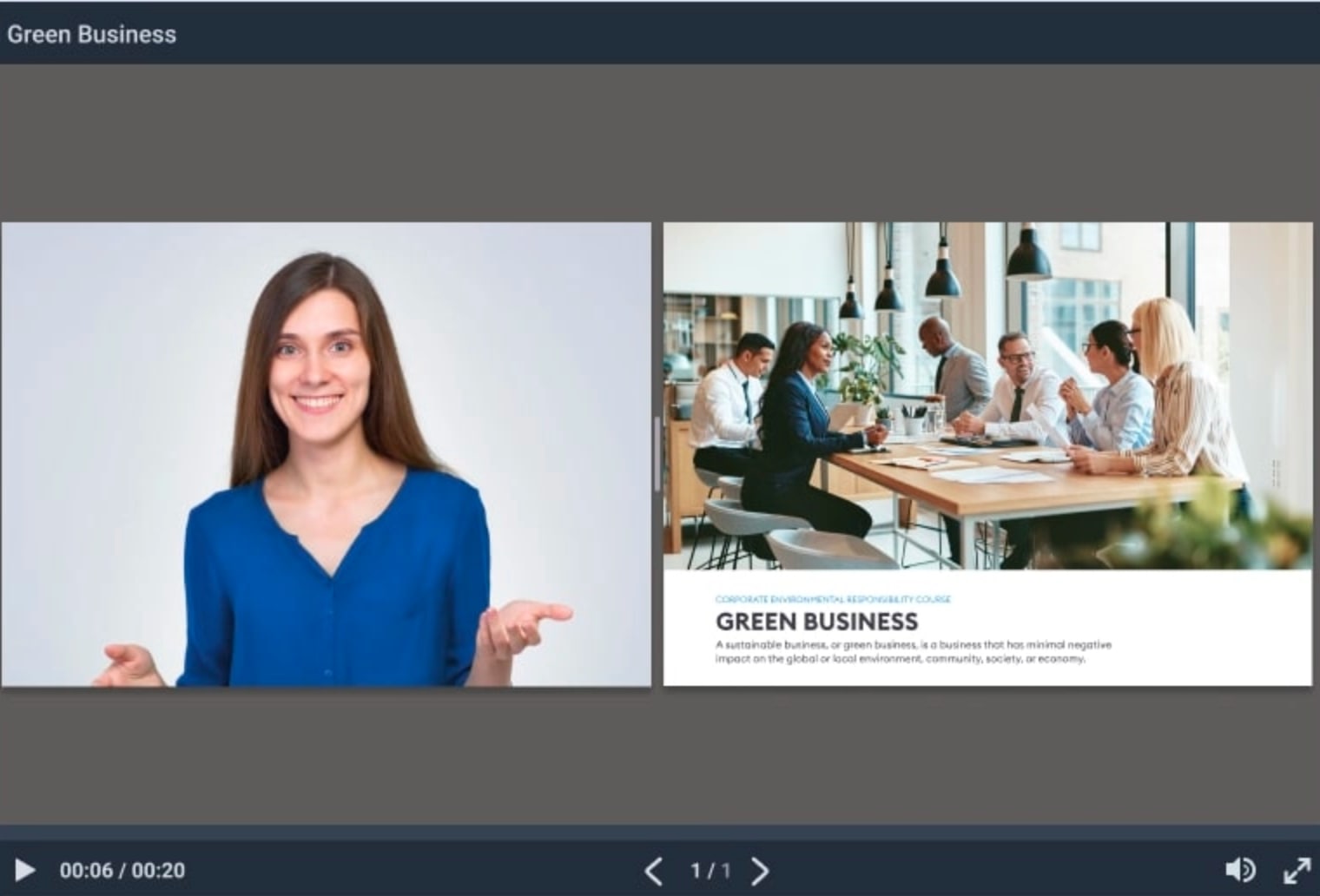 In practice, it's the big brother of screen recording videos, but unlike the latter, it doesn't focus on software and comes into play when it's necessary to show a process, explain a procedure, or present a company policy.
It covers a specific topic, and video tutorials typically last no more than 15 minutes.
Presentation videos
In this case, the goal of the video is to explain, present, in a simple and clear manner, a new corporate training project, the launch of a new product or service (sales training, for example).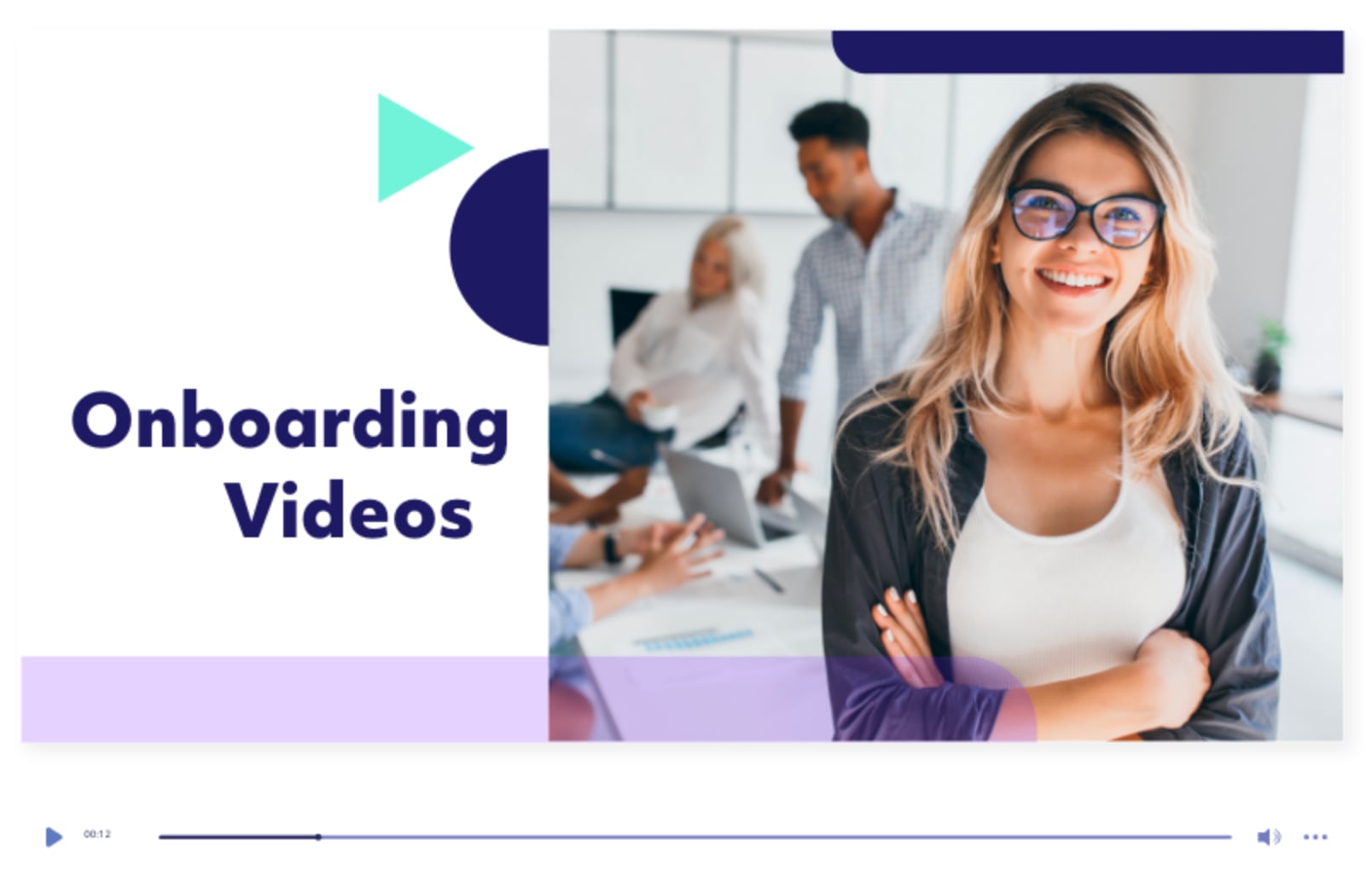 Usually, these are short videos, but they can contain a good dose of storytelling and creativity when it's necessary to capture learners' attention, such as in the case of videos dedicated to onboarding new hires.
Video lessons
It's not always possible to attend in-person training courses or webinars, but fortunately, there are video lessons! These are videos of varying lengths (from 15 minutes to 45 minutes per module) that delve into topics in-depth.
Those who consume video lectures are naturally interested and highly motivated to learn about the course topic. They won't have problems with lengthy video courses if they are correctly divided into video modules.
Long and engaging training videos
Who said that a video must always be short to be effective? Think about how YouTube rewards long videos (30 minutes, 1 hour, and even more). This is because if the content is valuable, and the user is interested in the topic, they won't abandon the video for something else. Google's algorithm says so… so why not heed the advice and use longer video content in corporate training?
But when should you use this type of video for corporate training?
Think about the Blockbuster video we showed you at the beginning of this post. The answer is: when you want to engage your learners and simulate a real-life scenario.
Whether it's a sales training video, onboarding in the company, or workplace safety training… narration makes a difference in these videos. Storytelling makes a training video interesting, engaging, and educationally effective. Don't just tell, show and engage to positively influence your learners with the power of storytelling.
Vodcast for training
A recent trend that we particularly like is the use of seriality in video production for training: vodcast (short for Video-On-Demand-cast).
Vodcasts are the video format version of podcasts. They focus on a specific but complex topic that needs to be addressed through a series of videos (episodes) published regularly (weekly or monthly).
Thanks to the serial approach in which the topic is addressed, your learners will embark on a gradual and progressive path of growth and change. Learning takes time, and vodcasts are here to help your learners, episode after episode!
The beauty of these videos is that they can be both "watched" and simply "listened to" during the day, at home or at work (as with radio and, indeed, podcasts). Your learners can access the e-learning platform from their computer or smartphone, click play, watch and rewatch episodes, or simply listen to them in the background. Interesting, isn't it? All that's left is to give it a try!
In conclusion
Video content is ubiquitous in our daily lives, easily created with just a smartphone, and accessible from any device with a display.
Video has become the king of digital content, and production is now affordable for every company. So, take advantage of the types of video courses we've presented here and… action! 🎬
#neverstoplearning