Unbelievable. Here we are at the third and final chapter in the saga about the main functions of Elucidat – the authoring tool we love and partner with, which enables enterprises to easily and quickly produce professional e-learning courses for many people.
"How can I use Elucidat with and for many people?" you may be wondering. We're here to answer you. ?
No more chatting and…action! ?
To each their own: teamwork for a successful training
Did you think you had to do everything by yourself? Don't worry, you don't. ?
Since no one is omniscient, the winning choice is to delegate: ask the experts in your company to collaborate on the project and give their input regarding their topics. The result will be quality courses that prove truly effective for your Learners.
Collaborate with your Authors, keeping control of what they can do through specific permissions tailored to each person's role.
Is the group getting larger? No problem: organize teams and give them access only to what they need to work on.
Not only that: you can invite whoever you want to leave comments on what you create through the review mode. This way you can keep track of all the feedback from your colleagues and make changes in real time. ?
Update each of your projects in one click
First, with Elucidat you can manage all your media – images, videos, audio – in one place: organize folders, add captions to files, upload new material…in short, keep everything under control.
Now comes the best of it. Imagine having to update a course that has already been published-either on the LMS or via unique URLs accessible from browsers: you can easily do this by editing and replacing material in bulk. What's in it for you? Up-to-date content for all your Learners without having to take individual action on each project. ?
Courses for everyone around the globe ?
Since Elucidat is used by enterprises in managing employee training, there is a need to make translations of content available in different languages.
Surprise! You can publish projects translated into various languages through a single SCORM. Seeing is believing… ?
Not only that, with the new Auto-Translate feature, Elucidat will automatically provide you with translations of your courses in as many as 75 different languages. Bye bye external agencies!
Another feature that will save you a lot of time is the ability to create related courses-so-called Parent/Child courses: create projects in several languages from a Parent course and manage them all in one interface. Updates from the Parent project are passed on to all Child projects, so procedures are more agile.
Make your courses accessible to many people! ?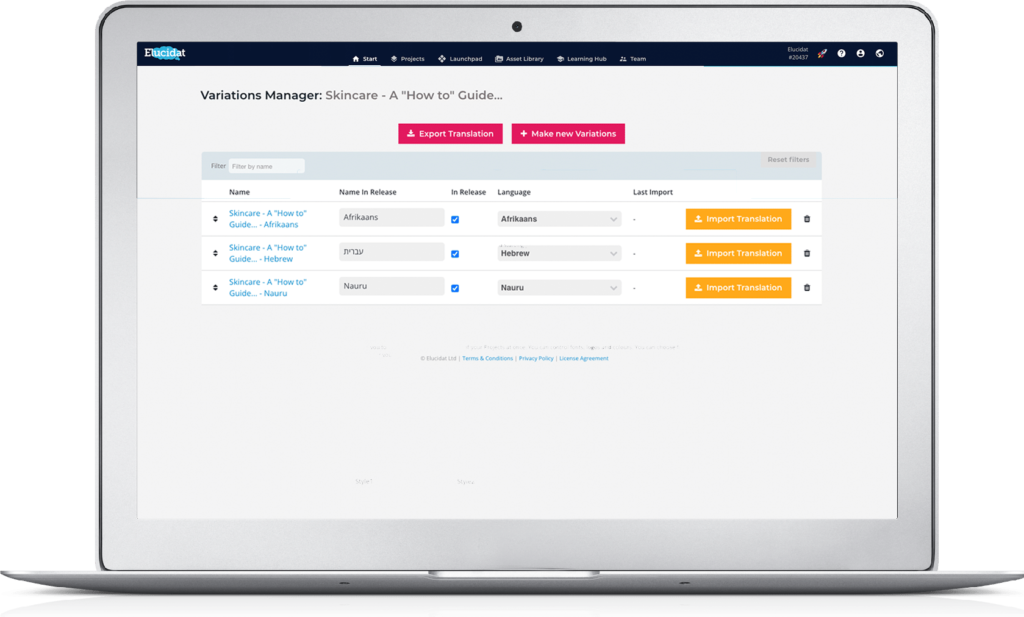 The end (yes, this time for real)
We have come to the end of this introductory trilogy about Elucidat and its main functions. To summarize: produce impactful e-learning easily in order to manage it at scale and to make it available to many people.
At this point, all you have to do is contact us for a Demo to test it out in the field. ?
See you soon!
#neverstoplearning ?
Contact us for an Elucidat demo
Find out how it works by booking a free online demo with one of our specialized consultants.