You already know: new year, new things coming. Let's discover together scenarios and trends of Corporate Training 2023!
During 2022, the changes grafted on by the Covid19 pandemics have begun to settle in; for example, now remote and hybrid working have become the order of the day and digital training is now present in all companies. There is more to come, but the need to optimize the corporate training budget in relation to the current economic climate remains a major challenge.
At a time when large companies such as Google, Twitter e Meta have implemented mass layoffs – and same for many others such as PayPal, Microsoft, IBM, Amazon – it's more necessary than ever for Learning & Development teams to optimize investments in employee training.
Dive in with us to discover the new trends in corporate training 2023. How will Learning & Development teams cope with this complex scenario, manage change and make the best of it?
To give you a sense of the situation…
The Fosway Group's Digital Learning Realities 2022 research presents a changing landscape: technological development and Covid19 have had a huge impact on the corporate learning market.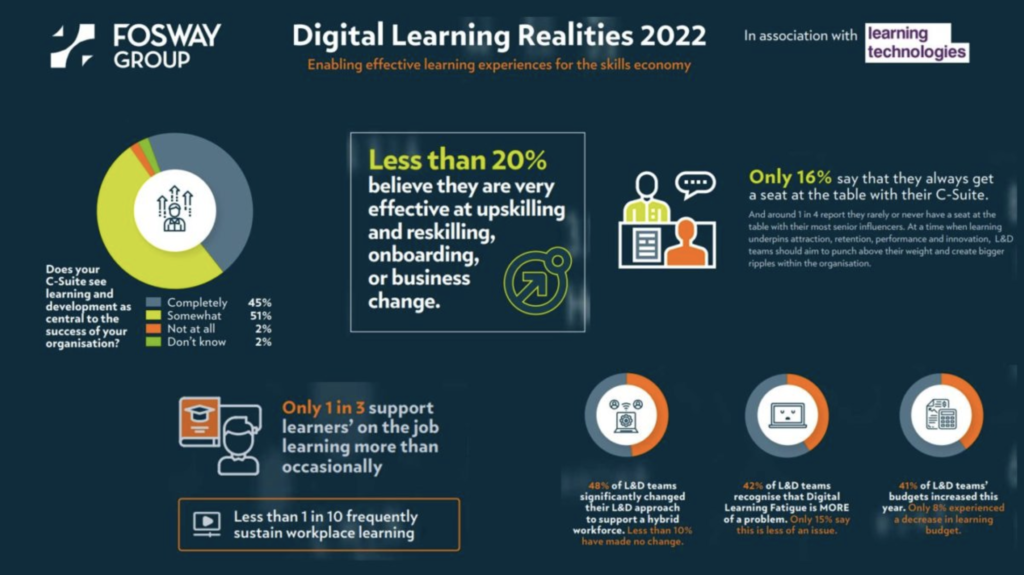 The study found that virtual and blended learning has become more important and that new tools – such as Artificial Intelligence – are playing an increasing role in L&D.
Let's try to bring this into sharper focus. ⬇️
What are the challenges that L&D teams are facing?
At a time when corporate training is gaining importance in the perspective of investing in human capital, practitioners face several challenges.
The evolution of digital learning has accelerated dramatically, making it difficult to keep up;
there has been a noticeable shift in customer expectations;
one can no longer work on corporate training that does not embrace the Digital Transformation;
in such a fluid business world, it's difficult to attract and retain talent.
The main issue affecting how the challenges listed above are being addressed is the lack of economic resources, which has forced L&D teams to work according to the axiom of "doing more with less".
All kidding aside, we don't want the notion to pass that we need to make cut after cut. On the contrary, spending less is not the solution: the key is to invest in the right tools and in the right ways – such as scalable training that enables large amounts of material for many people, with little effort. ?
What may be the solutions in 2023?
Our partner Elucidat administered a questionnaire to 130 industry professionals and leaders precisely to understand how L&D teams plan to face and overcome old and new challenges to take that extra step expected in the new year.
Follow us as we charge into the future: no obstacle will stop us. ?
Let's take a look at the 5 trends of corporate training 2023 together!
1. A new focus on continuous learning
Employees have been demanding corporate training that succeeds in being "Just in Time" for years, and companies are beginning to listen. That's because the success of self-directed trainings is tangible and growing all the time. ?
This kind of need arises from the fact that working people do not have much time to devote to study, so the solution is identified in:
2. Contextualize and show the practical side
Reality is an astounding source of content that people easily see themselves in. Putting Learners in front of situations they face daily on the job is critical to increasing their involvement and making learning impactful.
In this way, a more task-focused approach is proposed, as only the skills that are really needed are developed.
Tip: try to understand the dynamics of the workplace and how employees approach their tasks, and build on that to create content for them.
Choose interesting scenarios and season them with compelling Storytelling: your Learners will love it!
Keep it real. ?
3. New data, new opportunities for measurement and analysis
With the advent of hybrid and remote work, a new universe of data has arisen for analysis. An L&D Manager should understand what new conclusions can be drawn from this data-and demonstrate its value in terms of its usefulness for further progression.
Incidentally, thanks to technological development, the amount of data that can be analyzed and from which unprecedented conclusions can be drawn has increased.
Tip: strategically choose what is worth analyzing. Show the real impact of this data, don't overwhelm people with numbers without obvious meaning.
4. It doesn't have to be an obstacle race ?
Another problem when it comes to Digital Learning is that the vast amount of content available and to search through determines the difficulty in finding the right material at the right time. ?
The solution would be to streamline content to make it more Learner-friendly. How?
You have to curate the material that you make available to Learners. Revise, update, reassemble existing content and add new content, but don't overdo it! Identify your employees' training needs and go from there.
Remember: strive for linearity to reduce confusion and speed up research practices.
5. Use marketing techniques in L&D as well
Limiting yourself to creating excellent content by making it available on LMS platforms is no longer enough to interest your Learners. And the absence of engagement, in this case, is tantamount to losing an investment. How to ensure success?
Using marketing techniques to maximize the impact of learning experiences can be a great start. The important thing is to be proactive: results will not be long in coming. That's what we, in Apprendoo, call "training marketing". ?
Tip: imagine you have to sell the learning you offer. You need to be convincing to make it appealing. Emphasize why a Learner should need to learn certain things. Not only that: practice proactive communication to make sure they stay persuaded and come back to use your content.
Convert your employees into engaged Learners!
Let's tidy up a bit
To summarize: since the pandemic, Learning & Development has become an area of focus. There is finally a realization that investing in employee training is more functional and sustainable. So treasure these tips to ride the 2023 corporate training trends:
deploy reskilling operations to ensure that your employees are always prepared for what they must and will face;
leverage real-world scenarios to provide context that aids understanding and learning;
collect new data to demonstrate the results you are achieving;
remove barriers to a more immediate user experience and impactful learning;
make use of marketing techniques to increase engagement and retain your Learners.
Now you are ready to sail into the future.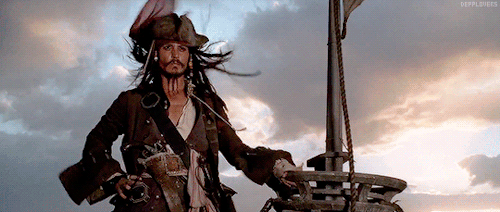 Contact us to get all the support you need on this new journey.
Until next time!